2018 Portuguese Pilot Fatality – What happened and Lessons Learned
"How a stupid death could have been avoided - the fatality of Capt. Miguel Conceição". This presentation will show a series of lack of procedures that resulted in the death of our colleague Capt. Conceição. There will be an overview of the current and past situation and lessons learnt and actions taken.
The transfer of pilots to and from ships is accomplished with the use of a pilot boat, a specific craft designed to withstand rough weather and resist the occasionally violent contact with the ships side. The passage between the pilot boarding berth and the ship can be more than one hour long. When approaching the vessel, the pilot boat coxswain will have to match its speed in order to go safely alongside. After a cautious analysis of the movements of both pilot boat and ship the pilot will "jump" to a pilot ladder which is in fact just a rope ladder with wooden steps and can be as high as 9 meters. For freeboards higher than 9 meters a combination of pilot ladder and gangway is mandatory (sometimes the ship freeboard can attain 20 meters that the pilot must escalate in order to reach the ship's deck).
It is during the process of embarking or disembarking that the pilot is exposed to severe personal risk, and, although there are several safety procedures to be observed, several fatalities are registered every year worldwide. Pilots are equipped with personal protection equipment that allow them to stay afloat in the event of falling in the water, whether by automatic or manual inflation. The crew of the pilot boat must be trained in man over board recovery manoeuvres as well as first aid, namely CPR.
Miguel Vieira de Castro - President, APIBARRA (Portuguese Pilots Association)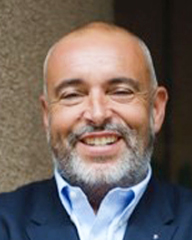 Miguel Vieira de Castro is 51 years old and the proud father of three sons. He has been involved in the maritime sector for more than 28 years, when he started its career at sea, sailing mainly in Tankers and LPG/C.

He graduated in 1990 BSc in Pilotage and took a Post Graduation Course in Maritime Law and a MSc in Port Management.
Since 2001 he is a Maritime pilot, currently in Sines, Portugal, serving as a Senior Pilot.

Two years ago he was appointed representative of the Port of Sines in LNG related matters. Miguel is currently the President of the Portuguese Maritime Pilots' Association - APIBARRA, VP of EMPA the Portuguese Maritime Pilots' Association.
Lecturer at ESNIDH - Escola Náutica Infante D. Henrique and a safety and technical consultant.


The maritime pilot is a certified professional mariner that gives technical assistance to shipmasters in order that port navigation is carried out with a high level of safety and efficiency. In Portugal, all pilots are Merchant Marine Officers with a college degree by the Nautical School "Infante D. Henrique" and have on average, about 10 years of sea time on board different types of ships before being able to start their careers as pilots.
After the ship agent or the appropriate port authority contact to the pilot station, the pilot is booked for a certain service such as a berthing manoeuvre, departure, shifting, drydocking or anchoring. The pilot is thus notified of the pilotage service to be carried, taking into consideration the local meteorological conditions, currents, tidal heights, ship characteristics and berthing place. This is the beginning of an extremely important coordination service with the aim of gathering all necessary equipment and conditions towards the successful outcome of the operation, such as transportation, pilot boat, tug boats, mooring personnel and the preparation of the passage planning.
Download NEXT GEN Workshops April 2019 Presentation (password required)