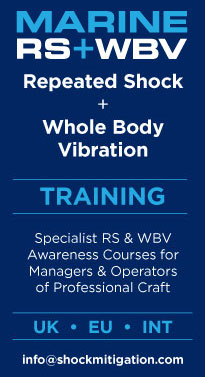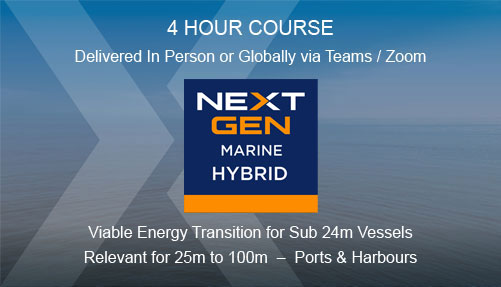 NEXT GEN Marine BATTERY-ELECTRIC Training

4 Hour Course

Delivered in person or via Zoom or Teams
Focus on sub 24m vessels.
Relevant for 25m to 100m.
Topics Include:
Opportunities & Challenges
Speed - Range - Weight Considerations
100% Battery-Electric
Parallel Hybrid
Serial Hybrid
Lithium Ion / Battery Types

Charging / Infrastructure

Safety
Why Attend?
This course provides the latest information and is highly relevant to ALL stakeholders considering new build vessels or retrofit of
battery-electric and hybrid systems.

Course Objectives
Course aims to provide awareness of changing energy requirements for
sub 24m sectors and the challenges of decarbonising boat fleets.
Relevant for 25m to 100m vessels as infrastructure evolves.

Who Should Attend?
Professional maritime organisations and those with a policy interest in decarbonisation. Also supply, support and operational sectors including OEMs, boat builders, refit yards, engineers, naval architects, ports and harbours.
Course Developer
John Haynes has organised working groups, workshops and conferences on next generation marine power & propulsion and stored energy attended
by hundreds of significant international organisations.
See NEXT GEN Attendees
CPD Certificate
A certificate is issued to each person attending the course
to support Continuing Professional Development.

Further Information
Claire Donnelly

+44 (0)7709 675258
Marine Energy Training - 3 Courses

New for Autumn 2022
We have developed 3 short courses to deliver in person or via Zoom or Teams
for organisations working with sub 24 metre vessels.
Courses provide awareness of changing energy requirements. This knowledge is relevant for 25m to 50m vessels as operations and infrastructure evolves.
The aim is to give end-user organisation an understanding of
both energy transition opportunities and challenges.
Technology companies can learn how their offering fits with various sectors
and which sectors are likely first adopters.

Each course contains the latest information and is delivered in 4 hours total.
3 focussed sessions have dynamic Q&A at the end of each section.
Course #2:

NEXT GEN Marine BATTERY >