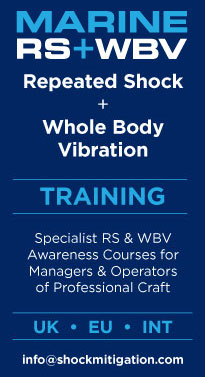 Next Generation Marine Energy for:
Work Boats // Patrol Craft // Military Vessels // Search & Rescue
Wind Farm Support // Pilot Boats // Offshore // Wind Farm Support

Police & Security // Training & Charter Vessels // Superyacht & Tenders
Relevant to Professional – Commercial – Military:
End-user Organisations // Operations // Procurement
Boat Builders // Refit Yards // Manufacturers // Engineers
Designers // Legislators // Ports & Harbours // Marinas
T

opics Include:
The role of Modified ICE & Alternative Fuels

Diesel & Petrol ICE are evolving for Maritime

Pros & Cons of 100% Battery-Electric / Lithium-Ion

Parallel & Series Hybrid Systems / Range Extenders
Hydrogen as an Energy carrier / Fuel Cell & Dual Fuel
Re-Powering Fast Craft Fleets in a Changing World
Dynamic Marine Operations / Predictable Duty Cycles
The realities of UK, EU & International Energy Policies
Technology Readiness Levels of Boats & Infrastructure
What can we Specify Now - by 2025 - by 2030
Course Objectives
This unique course provides awareness of changing energy requirements
for sub 24m sectors and the challenges of decarbonising boat fleets.
Relevant for 25m to 100m vessels as infrastructure evolves.
ALL professional maritime organisations and those with a policy interest in decarbonisation. Also supply, support and operational sectors. Highly effective for teams starting to plan for energy transition in a changing world.
Course Developer
John Haynes has organised working groups, workshops and conferences on next generation marine power & propulsion attended by hundreds of international organisations. See NEXT GEN Attendees
Feedback from recent ENERGY Courses:
'Fantastically relevant throughout.'
'Great insight into complicated topics.'
'Found the whole course to be really useful. Particularly to give management chain an understanding and overview.'

CPD Certificate
A certificate is issued to each person attending the course to support
Continuing Professional Development.
For information about NEXT GEN Training:
Claire Donnelly +44 (0)7709 675258