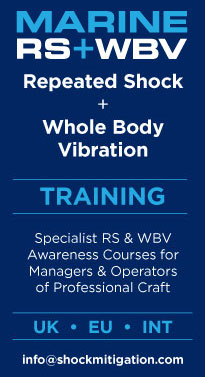 John Haynes - Organiser & Workshop Lead

17.04.2017
John Haynes is an Associate Fellow of The Nautical Institute, Fellow of the Royal Institution of Naval Architects, Commercial Yachtmaster Ocean and Advanced Powerboat Instructor.

Subject Matter Expertise includes 30 years professional sector training, consultancy and strategic product development. He has worked with over 100 organisations including military, SAR, end-users and OEM boat builders.
Maritime Professional of the Year - Seawork 2016
He has written specialist articles on future requirements and new technology for international publications including Maritime Reporter, Marine Link, Marine News, Maritime Journal, Seaways, Ship & Boat International (RINA), Maritime Pilot Journal, Yachting Matters (Superyacht), Fishing & Aquaculture, Ship & Offshore, Defence IQ.
He is founder of the RIB & High Speed Craft Directory which brings together specialist craft, equipment and knowledge for professional maritime operators in the sub IMO / sub 24m sector. At Seawork 2016 he was awarded Maritime Professional Of The Year.

About the Organiser - Shock Mitigation
Shock Mitigation provides organisations with relevant subject matter expertise plus an independent overview of how this sector is rapidly changing.

For OEMs, Shock Mitigation addresses strategic product development requirements regarding high speed craft, marine and special projects. The aim is to work with both new and experienced companies to develop technologies, products and processes that are viable and sustainable for the end user.
Shock Mitigation delivers accelerated knowledge transfer by conferences, workshops and specialist events that engage with a wide range of stakeholders.
Groups include end-user organisations, boat operators, boat builders, engine manufacturers, mechanical & electrical engineers, naval architects, the defence sector, government bodies and maritime legislators.
'Developing a Holistic Strategy for Shock Mitigation on Fast Boats'
The definition of shock mitigation is, 'to make a violent collision or impact less intense'. A shock mitigation strategy is essential for all craft that undertake open sea transits or operate in rough water. This includes rivers and estuaries with wind against tide conditions which form waves. Since the 1990's, focus has mainly been on developing mechanical suspension seats to reduce the effects of vertical accelerations. Areas considers areas requiring further investigation include fore-aft, lateral and vector forces, plus improving seat cushion performance and comfort.
A challenge for the builders of next generation RIBs and high speed craft is delivering platforms that balance high performance with the physical demands on crew and passengers. With the arrival of 'unbreakable boats' plus a surplus of engine power 'man' is often considered the weakest link. CAD software and digital modelling are key components in the process of designing high speed craft, but feedback from the human body is crucial input that designers and naval architects must consider for the next generation of fast boats. The objective of this paper is to bring together a body of information that end-user organisations and industry can utilize in order to develop a holistic approach to shock mitigation on fast boats.
All images are copyright NEXT GEN Marine Ltd 2023 unless otherwise stated.
This does not exclude the owner's assertion of copyright over the material.