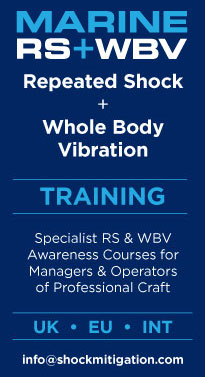 MariNH3 Investigates Ammonia as Marine Fuel

15.12.2022
The University of Nottingham is leading a new project to investigate the potential of ammonia to fuel and decarbonise the long-haul shipping industry, and boost the UK's powertrain sector.
MariNH3 is a £5.5m project, funded by the Engineering and Physical Sciences Research Council, that aims to develop new and disruptive engine technology to cut pollution emitted by today's diesel-powered marine vessels.
Using the seas to move goods and people is far cheaper than road transport, but comes at an environmental cost. The marine sector now needs to move towards net zero.
One of the challenges with international shipping is the sheer size and range required by vessels producing the majority of greenhouse gas emissions. There are issues with energy density for competing solutions such as battery-electric and fuel cell.
Professor Alasdair Cairns, principal investigator for MariNH3 and director of Powertrain Research Centre at Nottingham, said, 'There is significant interest in green ammonia as a fuel for decarbonised commercial shipping. This is a gas easily converted into a liquid in a process that is 100 per cent renewable and carbon-free. Ammonia could have diesel-like efficiency and energy density, plus is cheap and easy to store as liquid fuel.'
Industry partners helping the team to address this challenge include MAHLE Powertrain. MAHLE's novel 'Jet Ignition' technology is a fast burning combustion system currently used in Formula 1 engines, which the team aims to scale and transfer to marine where the fast burning could allow the engine to operate under conditions where NOx can be avoided or reduced.

Professor Cairns added, 'Formula 1 has already made the leap in its engine design to be capable of running on sustainable fuels. The technology transfer challenge from automotive to marine is to see if it can be scaled up to the levels needed in long-distance shipping.'
Another UK company involved is Dolphin-N2, bringing its Split Cycle engine technology to the programme which the team hopes could serve as a long-term replacement solution to achieve diesel-like efficiency whilst being ultra-low NOx.
In parallel to engineering the best technical solutions, the MariNH3 project will hone policy guidance, to develop technologies and a regulatory framework which are "right first time" and appropriately scaled across marine.
In addition to identifying alternatives to fossil fuel power in future fleets, retrofitting existing vessels is a major obstacle to tackle for the project. Big ships have engines that are in service for up to 30 years, many of which will still be out on the seas for decades.
The five-year MariNH3 programme, which includes partners such as Cummins, Rolls-Royce, Department of Transport, Maritime and Coastguard Agency, hopes to solve this problem by exploring retrofit engine technology solutions that can address issues around engine efficiency, with minimised end energy use and reduced pollution.
With 80 per cent of goods being transported by sea, shipping produces more carbon emissions than most countries and pollutes oceans. 9 per cent of transport CO2 comes from shipping and of that, around 80 per cent of shipping's greenhouse gases come from merchant vessels, including tankers, cargo ships and passenger liners.
Professor Alasdair Cairns, Chair of Propulsion Systems at University of Nottingham, is presenting on HyJet at the NEXT GEN Marine HYDROGEN Workshop via Zoom on 25 April 2023 - 13.00 to 17.00 (UK).

All images are copyright NEXT GEN Marine Ltd 2023 unless otherwise stated.
This does not exclude the owner's assertion of copyright over the material.