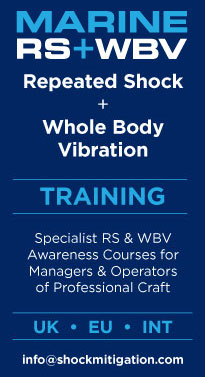 NEXT GEN Sponsor: SHOXS - Canada

27.10.2016
The SHOXS engineering team works closely with suppliers to develop a wide range of technology led products to meet the shock mitigation requirements of boat builders and end user organisations.

The objective is high quality engineering coupled with a variety of configurations. The SHOXS product line is constantly advanced through sea trials, lab testing and engineering.

Following their high-profile outfitting of shock mitigated seating solutions to 60 Royal Navy Pacific 24 MkIV RHIBs, SHOXS will be explaining the technologies that placed them first in the UK Ministry of Defence's gruelling selection process.

SHOXS CEO and President Paul Taylor said, 'The entire team at SHOXS are committed to leading safety standards and reducing injury to those who have dedicated their lives to serving their country and communities including maritime security, search and rescue, law enforcement and commercial support operations.'
Workshop Presentation Title:
'Shock Mitigation Solutions for Marine Vehicle Safety'
Presenter:
All images are copyright NEXT GEN Marine Ltd 2023 unless otherwise stated.
This does not exclude the owner's assertion of copyright over the material.