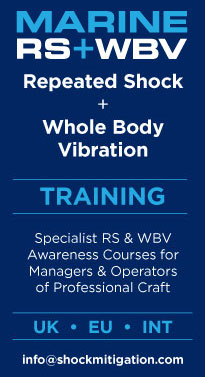 Review of NEXT GEN Shock Mitigation Workshop

03.11.2016
Over 80 people attended 3 specialist one day Workshops for the sub IMO / sub 24 metre professional sector in Southampton UK this October.

The unique NEXT GENERATION Workshops brought together an international group of experts armed with the latest knowledge to identify problems that affect the maritime sector worldwide – and highlight potential solutions!
Workshop Lead, John Haynes, introduced the 3 day agenda with a brief overview of the individual NEXT GEN Workshop objectives. A wave of cutting edge innovations were to be examined and discussed by marine industry professionals from sectors including military, search & rescue, government agencies, police and commercial operators. Boat builders, specialist equipment manufacturers and naval architects also attended.
A Holistic Strategy for Shock Mitigation on Fast Boats
John Haynes then opened the NEXT GEN Shock Mitigation Workshop with a session tilted 'Developing a Holistic Strategy for Shock Mitigation on Fast Boats'. To set the scene for the topics to follow he gave the definition of shock mitigation as 'to make a violent collision or impact less intense'. He added that, 'Since the 1990's focus has mainly been on developing mechanical suspension seats to reduce the effects of vertical accelerations. Areas requiring further investigation include fore-aft, lateral and vector forces, plus improving seat cushion performance and comfort. The challenge for the builders of next generation high speed craft is delivering platforms that balance high performance with the physical demands on crew and passengers.'
Marine can Learn from Other Transport Sectors
This was followed by Dr Tom Gunston of the British Standards Institute Whole Body Vibration (WBV) Panel who said, 'The marine industry is taking its first steps towards standard tests for shock and vibration protection seating, but boats are not the only sector that risks injuring people by shaking them around.' With five suspension seat manufactures in the room his session 'ISO Standards for Seat Testing and Seat Usage in Various Transport Sectors', led to a lively panel discussion that set a high standard for the day ahead.
UK MOD and RNLI compare notes on WBV
The day featured 8 subject matter experts and each session had two presenters 'back to back' followed by a group discussion. Commander RN (Rtd) Richard Finnemore gave an in depth update on the UK Ministry of Defence Whole Body Vibration Working Group. This pairing worked very well alongside of Pete Sheppard, Senior Naval Architect at The Royal National Lifeboat Institution, who looked at how the RNLI is assessing WBV exposure and implementing improvements on small craft. These organisations are at the cutting edge of maritime operations and it was clear that although they may undertake different tasks, the challenges of an open sea transit in waves is the common ground where experiences can be shared.
SKYDEX Technologies - Lead Sponsor of NEXT GEN event



Dave Parsons, Vice President of Product Development at SKYDEX, has over 25 years of experience in the development and provision of specialised seating. His presentation utilised a unique combination of physiology and engineering knowledge to introduce a range of high performance seating and decking solutions the company have launched to reduce effects of impact and WBV in marine applications. James Taylor, President & CEO of SKYDEX, delivered a separate presentation that highlighted how their innovative engineers are utilizing polymers and geometries to create multiphase springs for commercial and military applications.
SHOXS - Sponsor of NEXT GEN event
Next in this session was Dr Tim Rees of SHOXS who highlighted how the company, based in Canada, constantly advance their suspension seat product line through sea trials, lab testing, science and engineering. He described the challenges that seat manufacturers face in the design and deployment of new technologies. From this the group were able to discuss some of the science involved in shock-mitigation, including recent experimental results and their latest suspension seats on display for attendees to examine.
Noise & Vibration meets a Humanoid Simulant
Phill Moxley, a senior engineer working in the noise and vibration team of Frazer-Nash Consultancy, presented a session on the issues of human exposure to noise on small, fast, open craft and the practical measurement of exposure levels. As control of an individual's exposure to noise is an important part of safety at work and occupational health this was highly relevant to many of the participants.
A long term supporter of the Shock Mitigation Workshop format is Julian Morgan, MD of KPM Marine, whose glimpse into the world of cybernetics generated lively debate. Having designed and manufactured thousands of suspension seats he has reached the conclusion that we need to find new ways to test the next generation of seating. His innovative presentation introduced the world to a high tech humanoid simulant called 'Cassie'. A primary objective of this project is to replace dummies in the testing and recording of whole body vibration and crash in boats, vehicles and systems in hostile environments.
Next Generation Marine Operations are Evolving
Boat builders and specialist component manufacturers now recognise that they need to work together to develop next generation systems that fit the rapidly changing requirements of modern fleets. The unique knowledge gained from these workshop sessions will help to shape long term decisions that lead to improvements for in-service systems and procurement of next generation vessels.
The day finished with Dr Tom Gunston giving a closing summary from his perspective of the proceedings linked to lessons learned from other transport and vibration sectors. Workshop Lead John Haynes thanked the group saying, 'We focus on viable innovation and using people's time effectively. We also know that having the right people onboard is essential and there is no substitute for meeting the experts face to face when asking the hard questions. We are really proud to have brought together this great group of innovators, industry and maritime professionals.'
Historic Maritime Venue
Located in the historic port of Southampton, the Grand Harbour hotel provided an excellent venue with long lunch and refreshment breaks to encourage knowledge sharing and networking. The Workshop day ended with a drinks reception which enabled the group to take many of the discussions further in a relaxed atmosphere.

One NEXT GENERATION Workshop attendee summed up the event saying:
'Whilst I was there I was bombarded with new and interesting ideas, facts and outlooks. Your infectious enthusiasm for these subjects is clearly rubbing off on all those who were present!'
Register 2017 Interest to Event Manager - Claire Donnelly
NEXT GEN 2017 - 3 One Day Workshops
Southampton - 24 25 26 October 2017
All images are copyright NEXT GEN Marine Ltd 2023 unless otherwise stated.
This does not exclude the owner's assertion of copyright over the material.