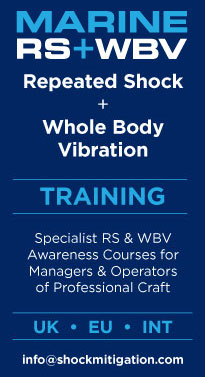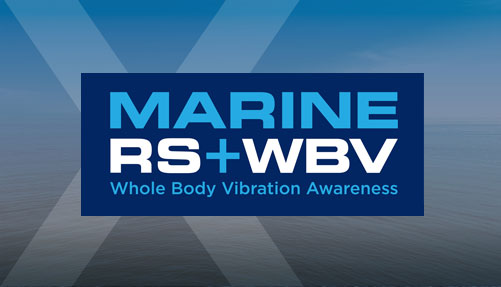 Marine RS & WBV Awareness Training
4 Hour Course

Delivered in person or via Zoom or Teams
Focus on Professional Sectors - Sub 24m vessels
Topics include:
Understanding Repetitive Shock and Whole Body Vibration on boats.
Evolution and characteristics of fast craft, workboats and RIBs.
UK & EU vibration directives, international standards and guidance.
What and where are the forces that affect crews and passengers.
Planning and techniques operators can use to reduce effects of RS & WBV.

Why boat operators and crews should adopt a culture of injury prevention.

Shock mitigation technology, suspension seating and data loggers.
How other sectors operating planing craft manage RS & WBV.
Using relevant knowledge and effective briefings to improve safety.
Why Attend?
This course provides the latest information and is highly relevant to ALL stakeholders involved in operating planing craft on the sea, lakes or estuaries.

Course Objectives



Course aims to provide awareness of Repetitive Shock and Whole Body Vibration on fast craft, workboats and RIBs

Who Should Attend?
Professional maritime organisations and boat operators. Also support sectors including OEMs, boat builders, refit yards, naval architects, ports and harbours.
A certificate is issued to each person attending the course
to support Continuing Professional Development.
Course Developer
John Haynes has delivered RS & WBV training for over 15 years.
He has organised working groups, workshops and conferences
on next generation marine safety attended by hundreds of
significant international organisations.
The objective is to provide awareness of current industry best practice.
In 2021 John Haynes led a working group for the MCA
(UK Maritime Coastguard Agency) that created MGN 436:
Whole Body Vibration: Guidance on Mitigating Against
the Effects of Shocks and Impacts on Small Vessels.

For further Information contact:
Claire Donnelly

+44 (0)7709 675258