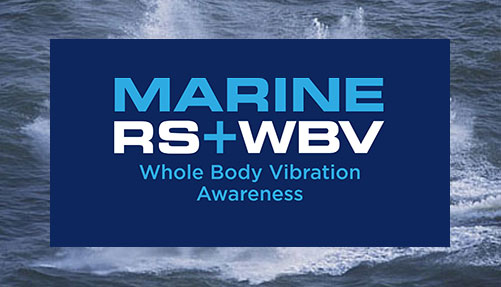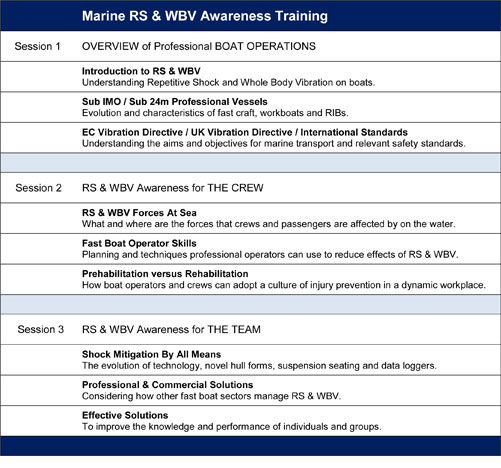 Marine RS & WBV Awareness Training
Delivered in Person or via ZOOM
For further information contact:
Claire Donnelly +44 (0)7709 675258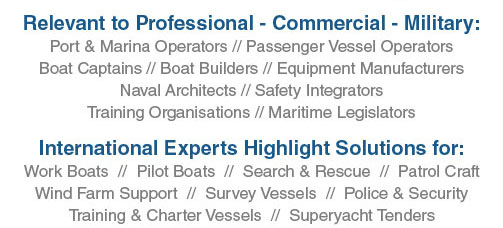 Based on latest industry best practice and recommendations from professional bodies.
Relevant to all sectors operating sub 24m craft in open sea / estuary conditions.
Relevant to all maritime organisations that follow UK / EU guidelines.
Methods to improve duty of care for crews and passengers.
Case studies and lessons learned by all sectors.

Repetitive Shock & Whole Body Vibration
Causes of 'shock' are random 'hits' of up to 15G from head sea impacts or from overtaking following seas. A single event can result in a sudden chronic injury. Causes of 'vibration' are continuous 'hammering' such as short steep seas or wind against tide conditions. Extended exposure can result in muscle fatigue and injury.

RS & WBV Training
Specialist training for professional operators of RIBs and High Speed Craft is essential for organisations affected by the UK / EC Vibration Directive. Our RS & WBV Marine Awareness courses utilise the latest information. For all organisations designing, building and operating planing vessels content is: a) Unique. b) Current. c) Relevant.

Combining Training With Experience
We believe that the only substitute for experience is excellent training, ideally delivered by skilled instructors experienced in the relevant sector. Our knowledge is shaped by experience and we understand the factors that are driving the changes for employers and operators in the marine sector.
Training At All Levels
Training can include separate levels of information for management, employees and crews. Shock Mitigation can present one or two day seminars at your workplace to present the latest developments relevant to your organisation. The objective is to improve the knowledge and performance of individuals and groups.
Flexible
We are pleased to discuss your specific training requirements regarding RIB, high speed craft (HSC), marine and special projects. We work with new and experienced clients to establish training objectives, develop processes and deliver on-site or off-site training relevant to the end user.