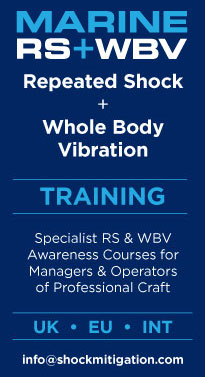 NEXT GEN Shock Mitigation Solutions Workshop

03.08.2020
6 October 2020 is the new date for NEXT GEN Shock Mitigation Solutions Workshop at the Grand Harbour hotel and conference venue overlooking the historic port of Southampton UK.

The NEXT GEN 2020 programme builds on experience of bringing together a unique mix of end-user organisations, solution providers and maritime expertise. An ongoing theme is how to blend innovation with traditional safety at sea.
We are living in challenging times...

but we believe it is still important to make plans for the future.



An international group of experts will give an overview of the current and evolving challenges for the sub IMO / sub 24 metre (80 feet) maritime sectors worldwide. Armed with the latest knowledge, the group will identify problems that affect operators of planing craft - and highlight potential solutions.
Workshops are designed deliver fast moving & highly relevant sessions. Unique knowledge gained from presentations and discussions will help to shape decisions that lead to improvements for in-service vessels and procurement of next generation systems that fit the evolving requirements of modern fleets in a changing world.
Hot topics include: Aims of Marine Guidance Notices for Controlling Risks of Repetitive Shock & Whole Body Vibration. Highlighting the latest Shock Mitigation Solutions to benefit Crews, Passengers and Operators in a changing world. An update on Science, Technology and International Standards. What is meaningful vibration and impact data?

Workshop Lead John Haynes said, 'In recent years less people are expected to do more work and time is becoming scarce for everyone in the marine industry. I have personally asked a number of maritime organisations what are their most burning issues. Their suggestions have been used to develop the 2020 programme.'
Industry experts showing their latest innovations include: SKYDEX Technologies - Dyena Offshore - Scot Seats KPM Marine - SEAir Flying Boats - Shockwave Seats.

NEXT GEN Shock Mitigation Solutions Workshop
6 October 2020
Grand Harbour, Southampton UK
One Day Workshop - Standard Rate: £195
UKMPA / UKHMA / RINA / YBDSA / British Marine Rate: £175

Military / Government / Academia / SAR Rate: £175

To book a place or for further information:
Event Manager: Claire Donnelly +44 (0)7709 675258
All images are copyright NEXT GEN Marine Ltd 2023 unless otherwise stated.
This does not exclude the owner's assertion of copyright over the material.